Are you interested in learning how to forge your own knife? Each class is two days, and by the end of it, you will leave with a finished and handled knife that is sharp. Students start with a 6″ piece of high carbon steel, and will spend the first day forging it into a knife, and learning about the heat treatment process. The second day covers the finishing processes and putting a handle on the blade.
For 2023, we're going to be teaching in a new location! Right in the middle of downtown Plattsburgh, NY, we'll be hosting classes at the Strand Center for the Arts.
Class Dates
May 20-21
June 24-25
July 22-23
August 12-13
September 23-24
October 7-8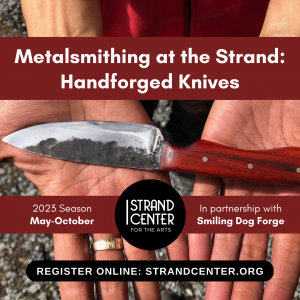 Open to Ages 14+, no prior experience necessary. Bring a lunch and plenty of water. Please wear closed toed shoes and long pants. Clothing should be made of natural fibers, as you will be working with open flame. Class runs from 9:30 am-4:00 pm each day.
If you have any questions around our classes or schedule, please send us an email!
Take a look below for some highlights of previous classes.